Meet the BBQ Pit Boys, officially the biggest BBQ and grilling community on the planet.
People looking for Old Time BBQ Grilling Techniques, BBQ Tool Recommendations, advice about How To Select the Right Cuts of Meat for a smoker or grill, and Easy-To-Cook-Up Classic Pitmaster Recipes tune into BBQ Pit Boys for inspiration. We encourage our community that's 1.9 million strong to experiment with classic, easy-to-do recipes by adding your favorite spices, rubs, marinades, sauces and beverages including Twisted Tea Original. Kick-back good eating doesn't get any better than that.
---
Rib Eyes with Twisted Tea and Butter Reduction Sauce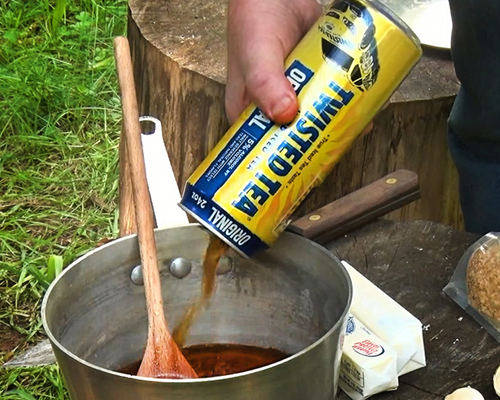 INGREDIENTS
• Rib Eye Roasts
• Oil
• Seasoning, or Salt & Pepper
• 24oz. of Twisted Tea Original
• 1/2lb. of Butter
• 2 Cloves of Garlic
PREPARING STEAKS
Start by cutting up your rib eye roasts into 1 3/4" or 2" steaks.
Rub your steaks with oil and seasoning, or use salt and pepper. That will give 'em a nice texture and layer of flavor.
TWISTED TEA REDUCTION SAUCE
Pour a full can of Twisted Tea Original into a pot. Add half a pound of butter, two cloves or garlic, and a tablespoon of salt and pepper. Heat it up on the grill to thicken it up.
All out of Twisted Tea? Head over to the Twisted Tea Finder!
COOKING
Cook the steaks directly over the fire. We're looking for an internal temperature of 125 degrees Fahrenheit.
Take your Twisted Tea Reduction Sauce and brush it all over your steaks...
...And keep flipping the steaks. You'll get a nice even cook throughout the steak.
Here at the Pit we like to eat them rare. You gotta eat 'em rare! It's the only way! But of course, server 'em up as you like. When they're ready, pull them off the grill and enjoy!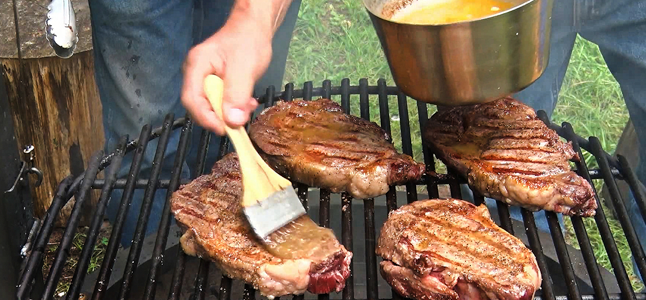 ---