Twisted Tea & Ty Dillon!
Twisted Tea is proud to announce that we're teaming up with Ty Dillon, driver of the No. 13 Chevrolet SS, Richard Childress Racing (RCR) and Germain Racing for the 2018 Monster Energy NASCAR Cup Series.
We're huge NASCAR fans, and that's why we're excited to partner with a team and driver who share the same love for race day. It's the best time to enjoy Twisted Tea from the stands, at a Twisted Tailgate, or while watching at home.
Be on the lookout for our Twisted Tea RV and driver appearances throughout the race season!
---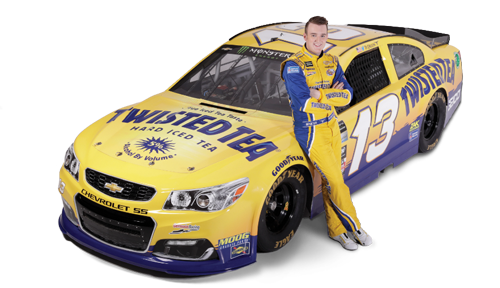 About Ty Dillon
Dillon will compete full time in the No. 13 GEICO Chevrolet SS after racing full time since 2014 in the NASCAR XFINITY Series. He is a four-time winner in NASCAR's three national series and won the 2013 NASCAR Camping World Truck Series Most Popular Driver Award.
Dillon spends much of his free time outdoors – mountain biking, hunting, fishing, and hiking. He is an avid sports fan and plays in multiple fantasy leagues with his brother Austin and other members of Richard Childress Racing. Dillon and his wife, Haley, were married in December 2014 and reside in Welcome, N.C. with their daughter, Oakley, and their dogs Bubba and Wyatt.
---
About Germain Racing
Bob Germain Jr., a third-generation automobile dealer, decided to build a championship-caliber NASCAR racing team. In September of 2004, Germain's dream team entered into its first race – starting and finishing the event inside the top-five. The young team led laps in its third race and reigned victorious in its fourth. Germain Racing was crowned with its first NASCAR Camping World Truck Series championship in 2006 - just 26 months after first joining the NASCAR ranks. This early success became the foundation for the team that has gained notoriety as a true threat to win at superspeedway events and a car that can't be ignored on road courses and even unique circuits like Martinsville Speedway and Pocono Raceway. Marketing giant and longtime motorsports sponsor GEICO joined Germain Racing in 2008. It was the team's first full season in NASCAR's XFINITY Series. Germain Racing delivered the best points finish GEICO had been part of to date and the pairing decided to take their relationship to the top. GEICO and Germain Racing joined the Monster Energy NASCAR Cup Series in 2009 and Germain has competed exclusively in this premier division since 2012. Germain Racing won the NASCAR Camping World Truck Series championships in 2006 and 2010.
About Richard Childress Racing
Richard Childress Racing (rcrracing.com) is a renowned, performance-driven racing, marketing and manufacturing organization. RCR has earned more than 200 victories and 17 championships, including six in the Monster Energy NASCAR Cup Series with the legendary Dale Earnhardt. RCR was the first organization to win championships in the NASCAR Cup Series, NASCAR XFINITY Series and NASCAR Camping World Truck Series. Its 2017 Cup Series lineup includes two-time NASCAR champion Austin Dillon (No. 3 Dow/American Ethanol/AAA Chevrolet), 2011 Brickyard 400 champion Paul Menard (No. 27 Menards Chevrolet) and 2008 Daytona 500 champion and 2013 Brickyard 400 winner Ryan Newman (No. 31 Caterpillar/Grainger Chevrolet). Its XFINITY Series program includes a multi-driver lineup with Austin Dillon and Paul Menard (No. 2 Rheem/Menards Chevrolet), a multi-driver lineup with Ty Dillon and others (No. 3 Bass Pro Shops/Rheem/Red Kap/Advil/Nexium 24HR® Chevrolet), Daniel Hemric (No. 21 Chevrolet), Brandon Jones (No. 33 Menards/Nexteer Chevrolet) and Brendan Gaughan (No. 62 South Point Hotel & Casino/U.S. Cellular Chevrolet).
RACE SCHEDULE
March
3/4: Las Vegas, NV
3/11: Phoenix, AZ
3/18: Fontana, CA
3/25: Ridgeway, VA
---
April
4/8: Fort Worth, TX
4/15: Bristol, TN
4/21: Richmond, VA
4/29: Talladega County, AL
---
May
5/6: Dover, DE
5/12: Kansas City, KS
5/19: Charlotte, NC
5/27: Charlotte, NC
---
June
6/3: Pocono, PA
6/10: Brooklyn, MI
6/24: Sonoma, CA
---
July
7/1: Joliet, IL
7/7: Daytona Beach, FL
7/14: Sparta, KY
7/22: Louden, NH
7/29: Pocono, PA
---
August
8/5: Watkins Glen, NY
8/12: Brooklyn, MI
8/18: Bristol, TN
---
September
9/2: Darlington County, SC
9/9: Indianapolis, IN
9/16: Las Vegas, NV
9/22: Richmond, VA
9/30: Charlotte, NC
---
October
10/7: Dover, DE
10/14: Talladega County, AL
10/21: Kansas City, KS
10/28: Ridgeway, VA
---
November
11/4: Fort Worth, TX
11/11: Phoenix, AZ
11/18: Homestead-Miami, FL
---